Netmail and Farsight Security To Reveal Latest Advancements In Fight Against Spear Phishing Attacks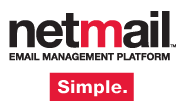 Montreal, Canada and San Mateo, California (PRWEB) July 30, 2014
Netmail, the leader in email management solutions for Microsoft Exchange, and Farsight Security, Inc., the leader in Passive DNS solutions, today announced that their upcoming webinar to be hosted on Wednesday, August 13, 2014 at 11:00 A.M. EST and entitled "Defending Against Spear Phishing Attacks" will be presented by Dr. Paul Vixie, CEO of Farsight Security Inc. During the webinar, Dr. Vixie will discuss various nefarious tactics and techniques used by cybercriminals in spear phishing attacks. He'll also tackle how cybercriminals are increasing the use of "throw-away" domain names where they employ malicious URLs for only brief periods of time, enabling them to fly under the radar of URL blacklists and reputation analysis technology.
"Today domain names can be created, used for malicious purposes such as spear phishing, and tossed away all within ten minutes. With this webinar, Farsight is pleased to partner with Email Management industry leader Netmail to help organizations better understand the risks – and solutions – associated with spear phishing and other malicious cyberattacks," said Farsight Security, Inc. CEO Dr. Paul Vixie, an Internet pioneer who was recently inducted into the Internet Hall of Fame for his work related to DNS.
As part of the webinar, Dr. Vixie will also present technical advancements in the fight against spear phishing such as Farsight's recently-announced Newly Observed Domains (NOD), a new set of data solutions that provide real-time actionable insights on the basis of the age of domain names, as well as other steps businesses can take to significantly reduce their spear phishing risk. NOD detects over 1 million newly active domains per day. Frederic Bourget, CTO of Netmail, will discuss how Netmail plans to integrate Newly Observed Domains (NOD) to thwart spear phishing with the Netmail Email Management Platform.
"In order to reduce the risk of spear phishing attacks for our Netmail clients, we are building a solution using Newly Observed Domains (NOD) to prevent email targeted at enterprise end users from getting through," says Bourget. "The solution will also protect the reputation of the organization by making sure email sent from compromised internal accounts do not leave the organization and instead notifies the email admin to take corrective action."
If you're interested in learning how to reduce your spear phishing risk, register today for "Defending Against Spear Phishing Attacks" on Wednesday, August 13, 2014 at 11:00 A.M. EST.
About Netmail

Netmail provides the simplest way to manage your email, whether for 100 or 100,000 mailboxes. An integrated, award-winning platform that includes email security, archiving, encryption, eDiscovery, storage, monitoring & more—for only $ 12 per mailbox per year, everything included. You won't find better technology, better support, or better people, for less money. Anywhere. For more information, see http://www.netmail.com
About Farsight Security, Inc.

Founded in 2013 by Internet pioneer and DNS thought leader, Dr. Paul Vixie, Farsight Security, Inc. provides network security solutions that deliver that critical contextual information often lacking in today's Threat Intelligence feeds. Farsight offers data solutions that document the network configuration of threats and of the Internet surrounding them, thus significantly increasing the value of its clients' existing Threat Intelligence feeds. Farsight's real-time Passive DNS solutions include DNSDB, SIE and NOD. The company is headquartered in San Mateo, California. To learn more about us, please visit http://www.farsightsecurity.com or follow us at LinkedIn, Twitter and Facebook.