Is Your Internet Service Provider Putting Your Children At Risk?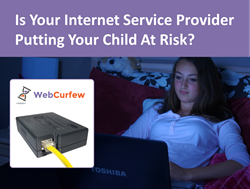 Chicago, IL (PRWEB) August 14, 2014
Parents don't need experts to tell them their kids are spending an unhealthy amount of time online. Whether it's surfing the web on their PCs, playing video games, watching Netflix, or socializing on their mobile phones, kids are spending too much time in front of screens. And more and more the driver for these "screenagers" is the vast, intoxicating content on the Internet. Tech addiction is a global epidemic, putting children at risk of any number of long term physical, social and behavioral problems in their very own home, and parents everywhere are struggling to deal with the issue.
Unfortunately, large Internet Service Providers (ISP) are progressively interfering with parents' ability to control their children's home Internet in safe ways. In the past eighteen months ISPs have started to methodically "lock down" the router they hand out to their customers, removing the ability to adjust what little parental control settings they have remotely, or accessing third party cloud-based content filtering services like WebCurfew, OpenDNS and others. This effort by ISPs to control the services that their customers can access is ensuring a wide open Internet is available for an entire generation of children at home, 24/7, while simultaneously making it harder and harder for their customers to parent effectively in the digital age.
Chicago-based startup WebCurfew is fed up and has decided to do something about it. The company was founded to help parents regain control over their kids' Internet access at home. Its free and intuitive parental control service connects directly to the router people already have at home and allows parents to see each device that is connected to the Internet. With the click of a button parents can easily turn the Internet access of specific devices on or off– without the need to install any software or have a background in technology.
Now the company has turned its sights on major ISPs, by launching today a Kickstarter campaign to fund the development of a tiny hardware device with a big purpose – to help parents nationwide unlock their existing ISP-provided routers so they can decide for themselves how and when their home network is to be used.
"Delivering consistently poor customer service is one thing, but it is simply irresponsible for ISPs to stand in the way of parents' ability to control their children's Internet usage," said Rod da Silva, founder and CEO of WebCurfew. "As a small startup with limited resources, we are reaching out to the Kickstarter community to help us fund this initiative to allow concerned parents everywhere to take back control of their home network from their ISP so they can set responsible boundaries around how and when their children go online."
The WebCurfew Kickstarter device simply plugs into an open Ethernet port on the back of the existing ISP-provided router and is programmed to connect with WebCurfew's cloud-based service in a secure manner. Parents can then start enjoying the benefits of WebCurfew's free parental control service.
"Parents all over the world are actively looking to their ISPs for simple, effective, Internet parental controls, but are continually disappointed in these companies' dated, ineffective offerings,"said Alberto Moriondo, WebCurfew head of Marketing and Business Development. "Our free, parent-friendly service has really resonated with the parents that have visited us from over 140 countries, yet many of them are frustrated that we haven't been able to support them to this point because they are using a locked down ISP router."
WebCurfew came out of Beta in June of this year and currently supports hundreds of routers makes and models, giving its parental control solution a reach into over 20 million homes worldwide. However, approximately 50% of the people that want to use the service can't get going with it because they have a locked ISP-provided router. WebCurfew's simple Kickstarter device aims to address the issue and allow potentially millions of non tech-savvy parents to finally be able to say "not right now" to their kids' online time.
To learn more about WebCurfew's product offerings and sign up for their free service, visit http://www.WebCurfew.com.
About WebCurfew

Based in Chicago, WebCurfew is a free cloud-based service for implementing parental controls across Internet connected devices. With no software to download, WebCurfew provides a holistic and easy-to-use solution for parents who are currently overwhelmed with the number of screens and technologies they must manage to keep their children safe on the Internet. WebCurfew is a graduate of the 2013 Chicago TechStars class. For more information about WebCurfew, visit http://www.WebCurfew.com.
Find More DNS Press Releases