Enables IT Completes Complex Data Center Relocation to Brunswick, Maine Facility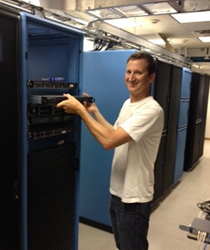 Brunswick, Maine (PRWEB) November 01, 2014
Enables IT successfully completed a complex relocation of former Know Technology clients from a downtown Portland, Maine data center to a larger and more robust facility at the Enables IT US headquarters located on Industrial Parkway in Brunswick, Maine. The relocations and migrations took place between June and October, 2014.
The fifteen client moves varied in complexity from a 1u single server to 42u racks full of servers and storage. The Enables IT team completed the relocation and migrations with a level of expertise exemplified by careful planning and faultless execution. The success of the project was described by client Art Leblanc of Echo First, "This team was simply outstanding. They came up with a conservative and well thought out plan and executed the final phase this morning with skill and an over the top effort that minimized the disruption to our customers and our business."
Enables IT's data center engineer, Tim Barthelman, led the project and states "When Enables IT acquired Know Technology, combining data centers into the Brunswick facility brought challenges such as schedule, firewall reconfigurations, IP and DNS edits, 3rd party connections, transport logistics, failover sites, and maintenance websites." He goes on to say, "Enables IT chose to migrate clients free of charge and the strength of my team proved invaluable in making the changeovers seamless."
The newly relocated Enables IT clients are housed in a data center with more space, power, cooling, increased security, and access to additional staff. In the near future, the Brunswick data center will complete the process for SOC II Certification which will provide additional security and redundancy for all customers.
About Enables IT:

Enables IT Group plc is a leading provider of cloud computing, managed and professional services with US headquarters in Brunswick, Maine. Enables IT specializes in the delivery and management of mission-critical services, enabling customers to reduce the costs, complexity, and risks associated with their IT infrastructure.
Find More DNS Press Releases