Celltick and DNS Partner to Launch an Advanced Custom User Interface for Android Users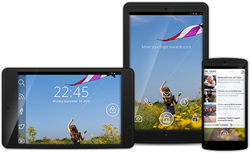 San Francisco, CA (PRWEB) July 15, 2014
Celltick, a global leader in mobile initiated commerce, today announced its partnership with DNS, a leading Russian & CIS electronics device manufacturer and retailer. DNS is one of Russia's largest electronics retailers. At the start of 2014, the leader in IT retail in Russia owned 718 shops across 250 cities in Russia.
As part of the partnership, Celltick will create a custom unique interface based on Start for DNS Android users. DNS consumers will have the ability to get fast access to their favorite and most frequently used applications and functions, as soon as they wake their phone. They will also get unique offers and services especially tailored for them. DNS will use this as a standard interface across some of their devices.
Start is a next-generation intelligent Android interface that provides interactive functionality on the Startscreen of the device. With this new interface, DNS users will be able to get personalized Startscreens which gives them a quick view into a variety of news feeds, personalized social media feeds, local weather etc. Start's adaptive recommendation engine which utilizes big data technologies and collaborative filtering techniques provides a personalized experience and on-going recommendations based on user's behavior
Celltick enables device manufacturers, like DNS, to provide additional value to their consumers while being able to maintain ongoing customer relationships beyond the point of sale ensuring brand loyalty.
"We are excited to partner with Celltick and provide our customers with easy and affordable tools to enhance their mobile experience," said Aleksandr Fedorov, CEO of DNS. "This partnership allows us to offer a unique Android user experience to our users and deliver value to them beyond the device. We strive to create a long-term relationship with our customers. With Start we gain a powerful tool to establish our competitive advantage."
"We are excited to be chosen by a leading device manufacturer like DNS to provide differentiating features and services through our Start product", said Ronen Daniel, CEO of Celltick. "Companies today are looking to deliver an outstanding experience to their customers. They are seeking channels that will help them maintain communication and create brand loyalty. We are glad to be offering a solution that matches their needs."
The growing Start ecosystem includes hundreds of themes and plug-ins available for download from Google Play. With this partnership, Celltick continues to expand its reach and making Start a widely accepted intelligent interface for Android devices. In 2013, Celltick powered billions of mobile-initiated commerce transactions for virtual and physical goods serving more than 110 million users across 25 countries.
About DNS

Russian company, owner of retail network specialized in sales of PC and digital equipment and also makes own production of PC , notebooks , tablets and smartphones. In the beginning of 2014 company owns 718 shops in 250 cities of Russia. Headquarter is located in Vladivostok http://www.dns-shop.ru.
About Celltick

Celltick is a global leader in mobile initiated commerce. Celltick's Start is a next generation personalized intelligent interface for Android devices. Celltick is unique in creating and managing mass market mobile marketing solutions for mobile operators, large media companies, device manufacturers and large brands while delighting users with a unique user experience. Celltick enables its partners to engage and monetize their start screen. The company drives billions of transactions annually across more than 110 million active consumers across its different mobile platforms in over 25 countries. A rapidly growing company, Celltick has subsidiaries in Europe, Asia, South America and the U.S. For more information, visit http://www.celltick.com.
Media Contacts:
Shirit Flider / Ramgopal Vidyanand

Celltick

press(at)celltick(dot)com
Related DNS Press Releases