Bizible Raises $8 Million in Funding Led by Scale Venture Partners; Broadens B2B Marketing Performance Management Product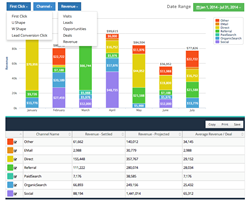 Seattle, WA (PRWEB) August 26, 2014
Bizible Inc., a provider of marketing performance management software, has secured $ 8 million in funding led by Scale Venture Partners (ScaleVP) with participation by Tim Kopp and existing investors Madrona Venture Partners, MHS Capital, Investment Group of Santa Barbara, and Rob Glaser. Bizible will use the funding to accelerate development of its marketing performance management solution and provide new solutions for B2B marketers and CMOs. As part of the investment round, Stacey Bishop, Partner with Scale Venture Partners, will join the Bizible Board of Directors.
Bizible connects marketing and sales data in Salesforce which allows for unmatched optimization insights based on revenue. "We first went deep in paid media analytics, especially for those investing in paid search." said Aaron Bird, co-founder and CEO of Bizible. Bizible also today announced an expanded product offering currently in beta that's targeted to business-to-business CMOs. With this product, CMOs can quickly:

Keep the entire marketing team accountable for driving revenue
Ensure alignment between marketing and sales
Shift budget to high performing channels based on downstream metrics such as opportunity creation and revenue
"The potential of connecting marketing and sales is incredibly exciting," continued Bird. "With this launch, we have now finished closing the loop across all digital channels. This enables unprecedented alignment between sales and marketing to succeed by driving revenue together as a team."
"The role of CMO has transitioned from artist to scientist. Marketing is under immense pressure to demonstrate positive impact on revenue but finding the right tools to do so has been difficult even in the digital age," said Stacey Bishop, Partner, Scale Venture Partners. "Bizible is changing this dynamic, providing marketers with the insight to adjust campaigns and drive higher ROI. It is a great addition to our broad digital marketing portfolio and I am excited to be working with Aaron and his team as they continue to expand their offering."
The funding will also be used to accelerate product development by hiring additional employees out of the Seattle headquarters, including a data scientist and other product development roles.
Bizible serves hundreds of customers across a wide range of industries, a client base that has grown by ten times in the last year to include such companies as Optimizely, OpenDNS, MongoDB, Xamarin, Open Colleges, Curtiss Wright, ADP, and Fujitsu.
Related DNS Press Releases